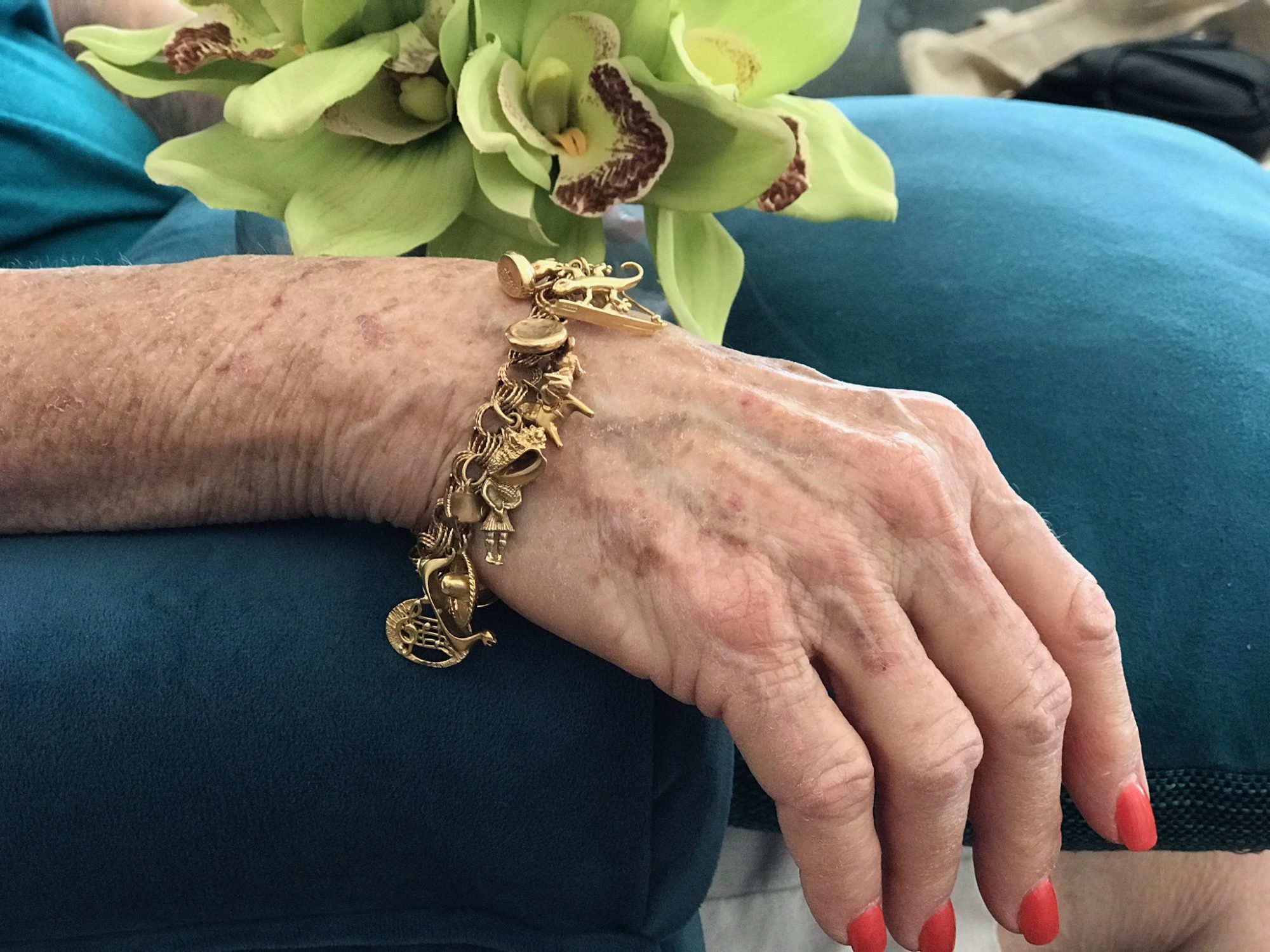 My momma is the most beautiful woman I know, inside and out! As a kid, she reminded me of Grace Kelly. Even now, she carries herself with such grace, I think people often mistake her for a movie star. Perfectly put together, she had and still has an elegant air about her. No one could throw a party like my momma! Complete with a theme, often including costumes, decor, music and gourmet food she created herself, Momma's parties were the place to be! Of course, as a child, I really wasn't interested in vichyssoise or borscht but there was something magical about being her guinea pig as she prepped another Galloping Gourmet recipe she'd seen on his weekly show!
One thing I've always appreciated and loved about her most is the fact that she is real. Yes, my sisters and I always wore the requisite matching outfits for Easter that she sewed herself, and I will always remember finally being old enough to sew my own! We may have looked perfectly put together and behaved extremely well as we sat in the front row at church as a family. The expectation was that we would mind, be polite and hug our grumpy great-mother whenever we visited her. But we were also encouraged to try new things, given freedom to try and fail, run and play until the street lights came on and to be a real part of the family, not just an accessory.
My momma is fearless, stubborn and loves my daddy just as much today as when they fell in love during high school. She always tried and did her best with three very inquisitive girls. She raised us to be strong women that can take care of ourselves but with the caveat that going through life with a man who adores you as much as my daddy adores her is just as important. She cries sometimes, laughs uncontrollably and has bequeathed to me a love of dirt. We went camping every single summer growing up. I think being in the mountains with the smell of dirt and pine mingled together, listening to the giant trees rustle in the wind, and a good book in her lap is still her ultimate happy place.
In addition to our annual family vacation, my parents always found time to go on trips together, without the kids. I don't think I really understood what a big deal that was until I was married with kids of my own. It's hard enough to get a shower some days, let alone a trip away with your husband! My folks have been able to travel far and wide and have had more adventures together than most single people ever even dream of. They've been to England, Scotland, Sweden, Germany, Austria, and France. They've visited every state in the US including Alaska and a few times a year they still travel to their home away from home, Hawaii.
With each trip over the years, my momma has created a magical gold bracelet filled with so many charms representing their travels that it's almost too heavy to wear anymore. I love that bracelet because each tiny figure has its own story – where it came from, what my folks were doing and thinking when they bought it – like a piece of history from a time so different from today that it sounds more like a Hallmark movie than real life!
The whole thing started during their first trip to London in 1969. In the lobby gift shop of the hotel they were staying in, Momma noticed a beautiful, tiny and carefully crafted gold crown. It looked like something the Queen of England would have worn, and it spoke to her. She decided right then and there that she was going to collect gold charms from all the countries they would visit over the coming years. They would be small reminders of places and memories she gathered as she went on one adventure after another.
There's the Eiffel Tower from their time in Paris. One of the tiny little legs has broken and become lost over the years, but the memory still lives in the golden replica of such a majestic tower. There is a cluster of Edelweiss from Austria, a charming beer stein from Germany, a piper from Scotland holding his bagpipes ready to play, and a tiny model of a viking ship from Norway.
Closer to home, there's the maple leaf from Canada, the sombrero from Mexico, a seashell from the Bahamas and multiple items from Hawaii – a pineapple, gecko and mahi-mahi to name a few.
One of her most prized charms doesn't look much like the others. It isn't meticulously carved, or super shiny. To the average person, it seems as though it doesn't quite match the beauty of the rest of the bracelet. But that tiny, flat round locket, with the marks of a baby's teething experience belonged to her daddy. Those dents and that misshaped surface were made by him when he was a baby in Sweden a long time ago. Even as she talks about it, you can tell it's special by the way she gently turns it over to show me the teeth marks and his initials etched into it.
My momma's bracelet reminds me that even though having adventures across the globe are exciting and make life exhilarating, there is nothing more important or prized as family! And that is what makes life real. Understanding that even if your greatest adventure is never further than your own backyard, if you have family, whether by blood or choice, you have a legacy and life that is worth capturing and savoring every moment of.
I videoed my mother talking about each little charm so that we'll have documented the life well lived that created a bracelet bursting with memories of adventures, love and sights that I can only hope to have for myself! Thank you, Momma, for showing me how to live a fearless, love-filled life that can be my legacy for my children and their children after them!