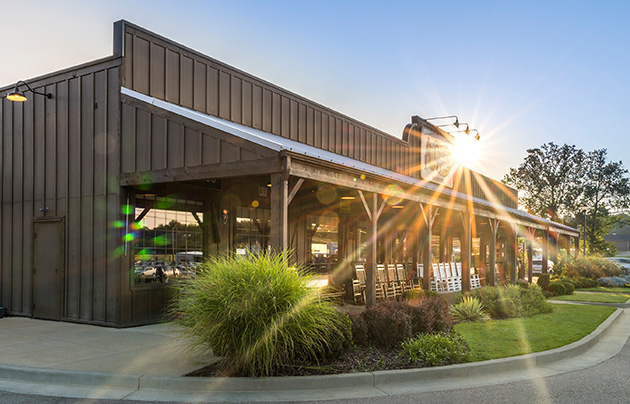 I loooooove Cracker Barrel! There, I said it! You can judge all you want, but there is something about that quaint, homey restaurant/country store that feels like being wrapped up in my grandma's quilt and sitting by a fire on a cold, gloomy day. I love the porch filled with rocking chairs and oversized checker boards. I love the smell of the wood burning fireplace and the warm smile and greeting I get from the greeter just inside the doors.
Hub and I are slightly addicted to this midwest restaurant. Whenever we have the opportunity to take off on a road trip, we try to hit as many Cracker Barrels as we can for as many meals as possible. There is actually an older couple in the news recently that has visited every single Cracker Barrel across the United States! Once Hub retires, we will probably be the next ones in the news as the old couple that has visited all the Cracker Barrels. But that's a long way away, I hope!
The meals are just like grandma used to make including biscuits that are our version of manna from heaven! I also love the adventure of exploring the country store for treasures! I always seem to find something that I "need"! From the Willow Creek carvings to the butterfly garden accessories. When I take my grandbabies there, we have a tradition that everyone gets to pick out one thing to take home. Of course, that means that we spend a lot of time in the toy section!
And then there's the tradition of a picture taken on the same little patch of grass every time Grandma D comes to Oklahoma to visit. We can't start our adventure into Cracker Barrel without first stopping at "our" spot, posing together with my grandbabies and snapping a memory to add to our collection.
It's so fun to go back through the photos taken at that very spot over the years! It's a reminder of our love and life together. The last time we were there, the grandbabies and I joked about the fact that when I'm 98 years old and come to visit, we'll still be taking that annual picture – even though they'll be in their 40's!
Although my diet has changed over the years – I'm now a vegan so most of the meals I used to enjoy are just a memory – I still love my Cracker Barrel! My grandma isn't with us anymore, she's saving a spot for me in heaven, but every time I visit a Cracker Barrel I can't help but think about her and be reminded of the heavenly home waiting for me; complete with a warm smile and greeting from my grandma, an invitation to sit and rock on the porch for a while, and the invitation to explore the many treasures waiting that were designed just for me. And someday I'll be the one waiting to greet my kids and their kids when they join us in our eternal home. Oh, and I imagine that there will be a group photo to commemorate the occasion!
When we all get to heaven, what a day of rejoicing that will be! When we all see Jesus, we'll sing and shout the victory! – Eliza E. Hewitt