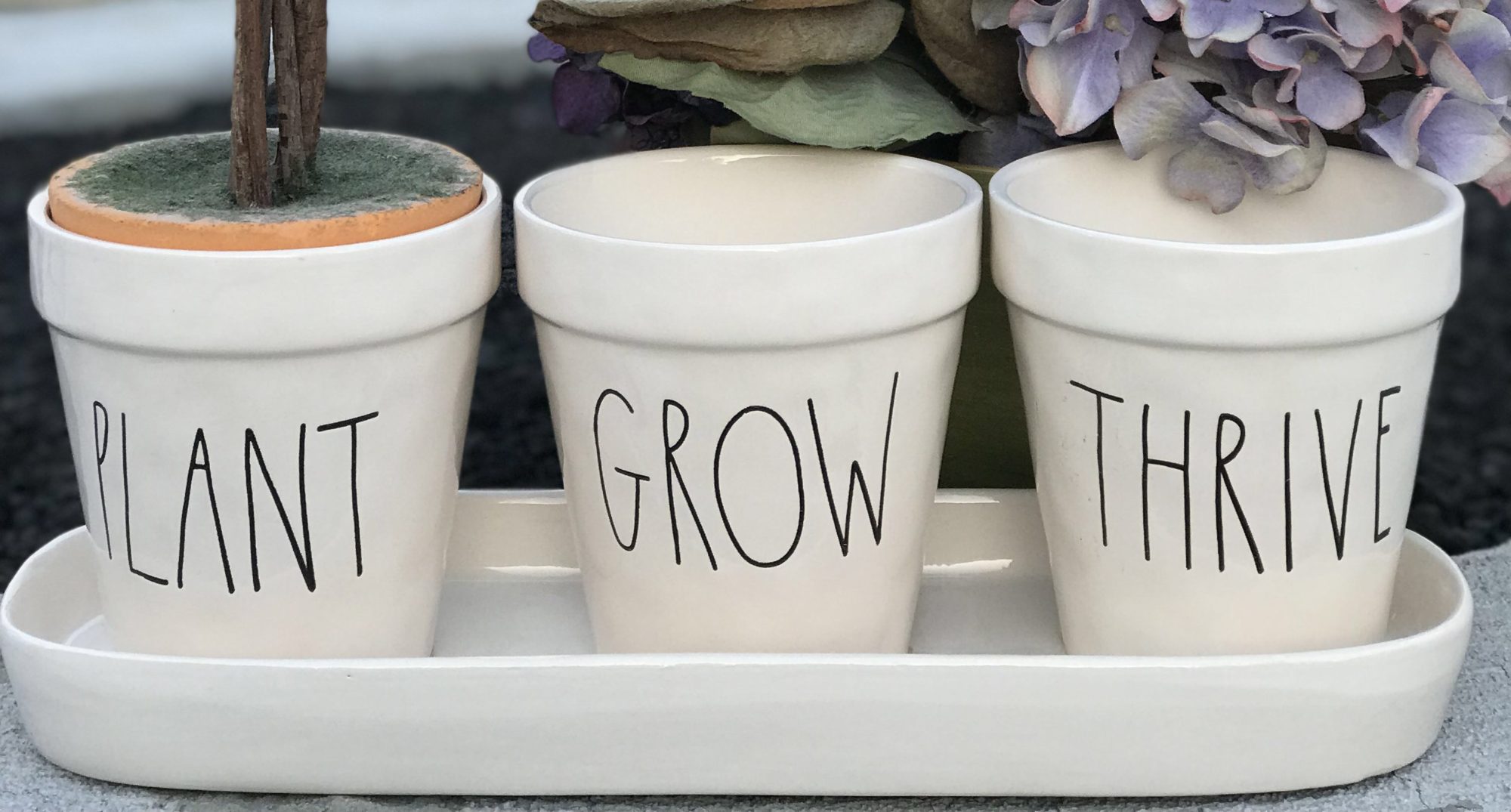 I have a new addiction. Any and everything Rae Dunn! Seriously! A trip to Home Goods or TJ Max turns into a treasure hunt, scouring the shelves for that perfect score! I hunt the internet looking for new pieces that I don't yet have in my collection. What is it about her designs that speak so strongly to my heart? It's really pretty simple. Rae Dunn's pottery always has an organic, imperfect, almost rustic look. If you are looking for perfect, pristine lines and uniformity, Rae is not your gal!
I believe there is a very simple reason that I'm so drawn to her designs. I feel they are an example of how I view life. I know, I know…sounds like a spiritual lesson is coming, but hear me out.
There is a place for perfection. A need for things to be smooth and so glorious they are rarely used except for special occasions. Like grandma's china that languishes in the china hutch until a special dinner, getting spruced up for weddings and special events are rare but important times to aim for perfection. Like heading out to that job interview, or meeting the Queen of England. A little polish is definitely required for some positions and situations! (BTW, I've never met the Queen. I'm just pretty sure that I'd want to dress up for that one!)
But then there's the rest of life – messy, unorganized, unplanned. For me, that's where the beauty of real living is. If you only celebrate the perfect moments, you miss out on the day to day moments that make up the majority of our lives:
Yay! Tommy used the potty!
Yay! I didn't die during my daughter-in-law's step class!
Or, my favorite after a particularly challenging day at work – yay! I didn't hit anybody over the head today!
If we truly believe that God is the potter and we are the clay (which I do, with all my heart) we have to accept that some people are the perfect, neat and tidy cups and some of us are the chunky, a little lopsided I'm-lucky-I-put-pants-on-today kind of cups!
For me, it would be exhausting to try to be the perfect china tea cup. My hair is a mess of curls that will not be tamed, no matter how hard I try. I sometimes say the things I shouldn't. I'm also pretty sure that the five pounds that has been creeping up on me off and on for the last few years may never truly go away.
Because God uses both the perfect and the imperfect, I prefer accepting the fact that God loves me, warbles and all, and can use me every minute of every day to make someone else's day beautiful by a simple, crooked smile or help them sigh at the beauty of the sunset while sitting in traffic on the way home from work just by being me. It's much less exhausting than trying to be the perfect china tea cup all the time!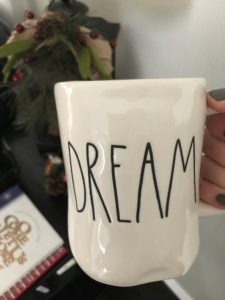 I find myself taking more deep breaths when I sip my morning coffee from this beautiful "Dream" mug. I sigh as I drink my herbal tea while cradling the gently imperfect cup with the simple word "Create" etched into it. It feels like sitting with an old friend. Comfortable, simple, accepting of me being me.
I'll be that cup! What about you?
God, thank you for loving me just as I am. Help me always remember that you can use my imperfections to show others your perfect love.  Amen